17 February 2011
TFS 2010 better with SharePoint
by Hugo Häggmark
Lately I've got some questions concerning TFS 2010 with or without SharePoint and this blog post does a fair attempt to answers some of those questions. If you don't have any hesitations and like to use SharePoint you should read this post to figure out which version of SharePoint you should use.
Background
SharePoint is no longer a required component when you install TFS 2010 and therefore some customers are asking questions about having SharePoint integrated with TFS 2010 or not.
Dashboards
You wouldn't buy a car without a dashboard or would you?
If we take a look at the Dashboard for the MSF Agile process template you'll should see something like so: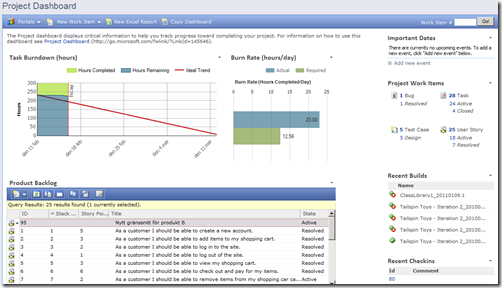 Speed
You have detailed information of your projects current speed much like the speedometer in your car like so:

Work Item overview
You get an overview of the contents of your project like so: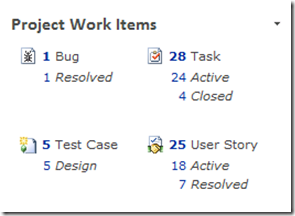 You could compare this to your gas gauge in your car or any other information gauges that tell you detailed information about the car.
Builds
Visualize the state of your build for all projectmembers and answers questions like why are builds breaking by drilling down to the individual builds directly from SharePoint.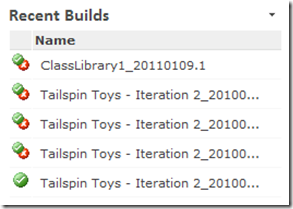 Checkins
You also get an overview of the latest checkins and you drill into the details directly from SharePoint.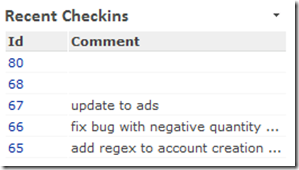 Work with your Work Items
You can even get down and work with your Work Items directly from SharePoint in various ways: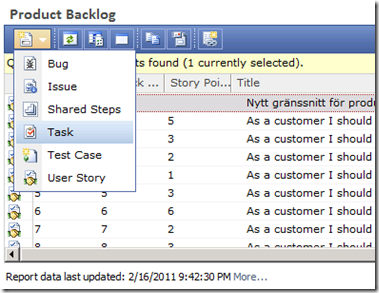 Interested in a specific Work Item? Use this shortcut:

Document Management
You get a state of the art document management system with lots and lots of possibilities and customizations that will make the management of your project documents a joy. Read more about it here.
Search
With SharePoint comes a great search engine that will help you search for information throughout your team portal.
And a whole lot more
Blogs, Wikis, announcements, calendars and a whole lot more goodies are there to make your collaboration experience the best.
Summary
TFS is a great product without your team portal in SharePoint but it's truly the best collaboration platform for development projects in the world with SharePoint and I highly recommend you installing it when you install TFS 2010.

Have a nice one!

Hugo

tags: SharePoint - Team Foundation Server